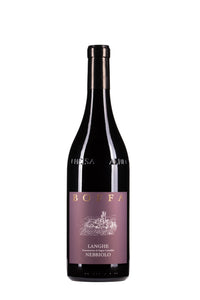 Nebbiolo is a popular red wine grape variety primarily grown in the Piedmont region of Italy. It is known for producing complex, tannic wines with flavours of red fruits, earth, and a characteristic hint of tar.
TASTING NOTES
On the palate, you may find flavours of red berries, plums, and dried cherries. There can be a subtle herbal quality, with hints of tea leaves or dried herbs. The finish is typically long and lingering.
FOOD PAIRING SUGGESTIONS 
There are some classic food pairing suggestions for Nebbiolo Langhe:
Traditional Italian dishes: Nebbiolo pairs well with classic Italian cuisine. Try it with dishes like pasta with rich tomato-based sauces, such as spaghetti Bolognese or lasagna. The acidity and tannins in the wine complement the flavours of the tomatoes and meat.

Game meats: The robust nature of Nebbiolo makes it an excellent match for game meats like venison, wild boar, or pheasant. The wine's tannins can help cut through the richness of the meat and enhance its flavours.

Truffle-based dishes: Nebbiolo and truffles are a match made in heaven. The earthy, aromatic flavours of truffles harmonise with the wine's complex characteristics. Try it with truffle risotto, truffle pasta, or truffle-infused cheeses.

Aged cheeses: Nebbiolo's tannic structure allows it to stand up to strong, aged cheeses. Pair it with Parmigiano-Reggiano, Pecorino Romano, or aged Gouda to enjoy a delightful combination of flavours.

Mushrooms: Whether it's a mushroom risotto or a grilled portobello steak, Nebbiolo pairs well with the earthy flavours of mushrooms. The wine's acidity and tannins can balance the richness of the mushrooms.

Roasted meats: Nebbiolo's bold character makes it a great companion for roasted meats, such as roast beef, lamb, or duck.
SERVING SUGGESTION
Served at a temperature of approximately 16-18 Celsius
SPECIFICATIONS
TYPE - Red 
REGION - Barbaresco
COUNTRY - Italy
GRAPE:  Nebbiolo